Memorial Gardens Gold Coast
At Eco Memorial Parks, we have many different types of memorials available from family gardens to single site memorials. We invite you to visit our memorial gardens prior to making a decision as to ensure you are content with the areas chosen to memorialise your loved one.
We provide multiple well maintained gardens and memorial sites at Eco Memorial Park where families and friends are always welcome. Gardens are named after local pioneering families and significant members of the community. In addition to this, we also present areas dedicated to important community organisations, such as the University of Queensland Donors, Mater Children's Memorial Garden and Returned Service Personnel. Keep reading or reach out to us to discuss further.
Our Memorial Sites & Gardens
As mentioned above, we suggest family view the areas prior to making a decision. If you are interested in visiting our gardens, please don't hesitate to reach out to us. Family Gardens can be purchased to ensure the future memorialisation of your chosen family members all together in one beautiful and fitting location.
We understand that this can be a very difficult time for many. The caring team at Eco Memorial Park offer their sincere condolences and support to all families and friends struggling with grief and loss.
Please note that we are currently working on expanding this section of our website and welcome enquiries for further information regarding our memorial gardens and sites as well as other services that we have on offer.
Jane and our dedicated team, are available to answer all of your queries and guide you with your selection.
You can search for an existing memorial by clicking the image below.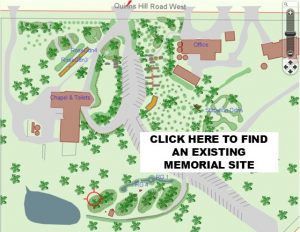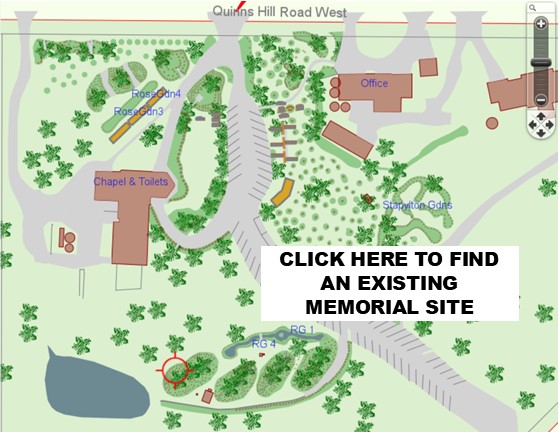 Columbarium Walls
At Eco Memorial Park, we have 9 columbarium walls in different locations throughout the beautiful memorial gardens.
Also known as a columbarium, is a wall, room or building used to store urns holding the ashes of people who have died and have been cremated. The name "columbarium" comes from 'columba', the Latin word for 'dove', because columbaria usually have niches to hold the urns that resemble those in dovecotes (dove houses). These are then covered with plaques to protect the ashes inside the brick walls.
This brick feature contains nine walls, with six at ground level and three above in the founders garden, commemorating past service members in this war grave memorial. Plaques over each opening seal the ashes in place in this reflective outdoor space.
If you would like a tour of our memorial gardens prior to making a decision, please don't hesitate to reach out to us.
Tropical Rockery Memorial Gardens
Situated at the front of the memorial gardens, our tropical rockery memorial gardens are made up of larger sized rocks with beautiful lush greenery, succulents and native Australian bushes.
You can find this beautiful green lawn area, surrounded by native bushes, in front of the site's chapel. Large-sized rocks mark the area, ideal for memorial plaques.
Water Memorial Gardens
In a natural bush setting, you can find the Water Gardens on rocks climbing the hill and surrounded by trees. This memorial garden takes its structure from four large mounds, each with rocks and plaques.
Our water gardens were designed with beautiful water features and rockery in a natural bush setting. With trees, greenery, succulents and statues. There is also a bridge and seating available.
Other Memorial Gardens
At Eco Memorial Park, we have over 18 different memorial gardens available. We also welcome requests to view the memorial gardens prior to making your decision.
Please read more or reach out to us via phone on 07 3807 4111 , email or enquire online for further information.
Brauer Garden
In its three-section structure, this memorial garden takes its name after a well-known family from our community.
Its natural rockery neatly complements the native plants and gum trees throughout the garden, such as the red Photinia Glabra that flowers in summer.
Walter T Hanken Gardens
In being situated on the scenic walk up towards the chapel, this memorial garden takes its name from a former groundskeeper. You'll find these memorials nestled between palms and other native plants. You can see the hibiscus flower blooming from summer to autumn here too.
Connolly Garden
Located by the nearby chapel and easy access from the car park, Connolly memorial garden takes its name from the land's owners.
With large rocks foregrounding the scene, the garden brings together native plants and trees into a tranquil commemoration.
Founders Garden
As the first garden constructed on our grounds, the garden features a small waterfall to welcome visitors into its grove of native plants and palms.
It is a beautiful space that offers the bereaved reprieve from the outside world in a place of quiet reflection.
Frangipani Garden
As its name implies, this garden contains a line of frangipani trees in a rockery style. With a single line of rocks traversing the full extent of these water gardens, they create an enchanting scene with delicate flowers blooming from December to April.
Garden of Grace
Within driving distance of the crematorium, the Garden of Grace is a rockery garden filled with native trees and shrubs. Alongside its convenient location, it offers a tranquil and restful atmosphere. Flowering between February and November, the colourful Hong Kong Orchid Tree is a central garden feature.
Garden of Peace
Like the Garden of Grace, the Garden of Peace sits near the office and main walkway.
Its rockery style comprises gum trees and native fauna together in a carefully cultivated garden.
The purple lavender is particularly stunning, flowering in summer and offer a calming scent.
Nathan Jones Garden
This memorial has its origins as a memorial site for children, taking its name from a family school friend who sadly passed away.
Today, the garden encompasses memorial rocks for all ages in a three-row layout, ascending a timbre staircase to the top section.
River Gardens
Walk across our timber bridge to find our tranquil water gardens that make the four sections of the garden. Our memorial gardens' native flora and fauna surround the main river and reflective waterfall in a beautiful setting.
Rose Gardens
Roses are such beautiful flowers, carrying all sorts of meaning and sentiment.
In our four rose gardens, you'll find raised brick line memorials with small memorial plaques of 100 cm x 60 cm for a commemoration surrounded by these iconic flowers.
Peace Drive
In curating a peaceful, natural setting, this rockery garden contains many native plants and trees.
Peace Drive sits near the entrance, located along the first section of Eco Memorial Park's driveway.
Paradise Garden
This garden takes up one long, single row of memorial rocks in a gorgeous location between the rose and Bauer gardens.
Paradise Garden has a central row of Lilly Pilly trees that fruit in winter and flower in summer, offering stunning natural beauty all year around.
Serenity Garden
As the rockery garden lines the chapel walk, the Serenity Garden offers a quiet, neat area for reflection. The garden comprises palm trees and other native species. For example, you can even see the Christmas flowers (poinsettias) in winter, providing a splash of colour and atmosphere to the garden.
Stapylton Grove
For a natural bush setting, reflecting Australia's best-known landscape, the Stapylton Grove combines gum trees and native plants in a lovely, quiet area. We secure the plaques onto single or double clay craft fired urns, with the ashes buried in front of the urn.
Sun Garden
Located to the left and right side of the walkway near our office, the Sun Garden offers a bright, natural space for memorials.
The rockery setting uses plaques for each person's memorial.
Tree Tops, Mater Babies, University Donor Bequests
These unique gardens are reserve for cremated preterm babies from the Mater Hospital on one side.
On the other side of the gardens, features University Donor program cremations on the other side.
Memorial Gardens Gold Coast FAQs
Why pick a family garden?
Choosing the family garden option when remembering the life of a deceased loved one may be a very good idea for many reasons. It ensures that your family would all be together in memory and at a beautiful, well-cared-for lot so that even in death your family will be together. This may be a good choice for you if this is something you know you would one day want for yourself when you pass and if numerous family members feel this way, it's best to get a place you can all rest together sooner.
What makes your services eco-friendly?
At Eco Memorial Park, allowing people to honour their loved ones whilst remaining environmentally conscious is our top priority. This is done in many ways, one of these being that our staff are all highly trained in the process of cremation which will allow them to provide this service efficiently without causing excess emissions. The output emissions being kept to a minimum is much better for the environment. We also have biodegradable urn options along with solar panels on all of our buildings; the use of dams to collect rainwater for ample irrigation and the use of recycling systems in place at all of our memorial parks.
How can family and friends from overseas pay their respects to their deceased loved one?
If you're loved one who has passed away has family and friends overseas who may not be able to travel to the funeral or memorial service, there are alternative options. At Eco Memorial Park we also offer funeral live-streaming services. This allows anyone with a private code and internet access, to witness the funeral or memorial service on a compatible device, live. They will be able to pay their respects from where they are in real time and witness the celebration of this person's life from the comfort of their home.
Is it better to pre-plan a funeral?
Pre-planning your funeral is an option many people opt for nowadays. Neither is better than the other as it comes down entirely to personal preference. If you are terminally ill and have been given the unfortunate news, or you know you have lived a lengthy life and now it's time to put preparations in place, pre-planning may be for you. It relieves your loved ones of stress and doesn't leave any uncertainty; you're saying how you want it to be before it happens. It may help you to feel your affairs are all in order however, this can be a very emotionally demanding option so it's best to choose whichever feels best for you.
Can my pet be buried in our family lot?
For most, pets are just as part of our family as humans. Losing them is still the same grief. If you've purchased a family lot you can have all of your family buried in the same gardens, this includes your pet. At Eco Memorial Gardens we know how important pets can be to people which is why we offer both pet cremations and pet funeral services so yes, your pet can be buried in your family garden space.
Can I leave my flowers at the memorial site?
Yes, you can leave your flowers when paying your respects. These should still be respectful of those around you and should be left only on your loved ones' memorial site, especially if you purchased a single garden space. We do have groundkeepers who will ensure the cleanliness of the gardens so they are at risk of being cleared however, they can be laid on your memorial site and should remain until they ultimately begin to die.
Do I have to clean the memorial site?
No, you do not have to clean the memorial site when you visit, you are welcome to should you want to but you most certainly do not have to. Our gardens are well looked after so your memorial garden site will always be maintained and cleaned by our working team. This ensures that all of our sites remain a lovely and hospitable place of rest for your loved one so we will take care of all of the cleaning, tidying and maintenance that is necessary to upkeep our lovely garden spaces.