Meet The Team
Caring Funeral Directors Gold Coast
At Eco Memorial Park, our team is comprised of friendly and caring funeral directors who are always more than happy to be of assistance during this time.
As a family owned & operated business based in Logan Queensland, we service families from all walks of life and all religions. We will do our best to ensure your requests are not only met but expectations exceeded.
Choosing a funeral director for a loved one is not only very upsetting but stressful to say the least. At Eco Memorial Park, you can be sure that you've found the right place.
Meet our team below or get in touch to arrange a tour.
From growing up surrounded by the industry, Tim knows what's needed to not only provide exceptional funeral services but to provide support for loved ones during this time. It was only natural for Tim to take over the business after leaving school. His parents grew the business from a small unit in West End to a well known business providing one on one care.
Tim and the Connolly family pride themselves on providing a sentimental and memorable service to those who have passed while assisting in providing closure for their loved ones. Please do not hesitate to reach out to us. We are always available to assist a family in need.
Meet Rebecca Connolly (Bec)
Predominately in the accounts department, Bec is another 2nd generation funeral director from the Connolly Family.
Being involved in the family business since birth, it was only second nature for her to start full time in 1996.
"I don't think of myself having a 'job', I love going in every day and guiding families through the most difficult time of their lives. The feeling of knowing you have assisted in the healing process is second to none whether it be a loved person or animal".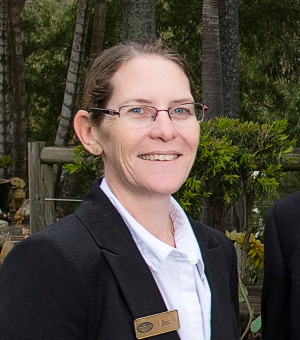 Meet Jane Levin
As a well-loved member of the Eco Memorial Family for more than 5years, Jane is usually a first point of contact when reaching out to us.
Having a history in providing quality customer service coupled with her friendly and caring nature provides a comfort to families and loved ones visiting our funeral home.
Whether you're needing to choose an urn or keepsake, view our memorial gardens or discussing your options, Jane is always there to be of assistance. Her time and attention is focused on supporting the family to find out what they want and to suggest ideas and alternative options they might not have spoken about if they are struggling to decide.
Her Son, Jake is also seen around Eco Memorial Park tending to our gorgeous memorial gardens and ensuring these areas are always up-kept.
We thank Jane for her continuous support and care provided every day in her position.
As another member of the Connolly family, it was a natural progression for Libby to continue on in the family business. She also specialises in international repatriations.
Now focusing on Administration, Libby is always ready to assist families and loved ones during this time.
Additional Staff
In addition to Tim, Jane, Bec and Libby you will be supported by an experienced, professional and compassionate team that consists of Ben, Geoff, Chris, Jake, Andrew, Jakob  Lyn, Alexis, Kerry & Gina.